Divorced MILF Wants Bigger And Better Orgasms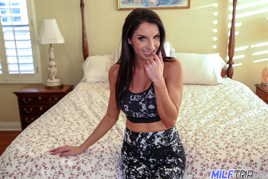 She is divorced but not dead and working out is how she relieves stress. Chuck finds this Divorced MILF coming out of the gym and he has other ideas of how to get her hot and sweaty.
Silvia just got done playing a game of tennis, now we get to see her work over another set of balls. The prize in this game is to have the best orgasm she has ever had, she takes on the challenge. This is one of our favorite scenes and we are sure you will agree.
MILF PORN STAR SILVIA SAIGE IN HARDCORE FANTASY FOOTAGE
For one thing, this hot mom is horny. Earlier she was exercizing and getting all sweaty working out. Of course now she is working out, but over a hard cock. In the same way she was getting hot in the gym, this workout is a lot more fun, and satisfying.
Follow our Twitter account to receive the latest updates and milf industry news.
Please follow and like us: